My first Kentucky Debry was viewed from the infield.
"I couldn't tell you which horse won or who drove me home, the only photo I have of my "First Derby", is of a blanket with 2 joints, a 1/2 empty bottle of Jack, a program and two 5 dollar tickets.
I thought it was in 1980 but I was wrong my first Derby was in 1979. How do I know???
You see I have this box. Most guys have a box, we don't keep diaries but we keep stuff and we keep it in a box. Not much else matters except the stuff in the box.
There's a photo of a girl kissing a dolphin (I love the photo, once really loved the girl too) who I haven't seen in four years. She tells me she's fat and wrinkled now (doubt that and just figure it's a ploy to keep me from asking her to dinner), a photo of the mother of my son and I where we were 16, (we have a Kim and Alec Baldwin relationship, no ours is worse) There's a watch that belonged to my grandfather, a bunch of ticket stubs, Van Halen, Ozzfeast, U2, Rolling Stones, and others. Three pennies that were laid on the CSX line at Rocky River Road and flattened by a passing train when I was 17.
Then there is this...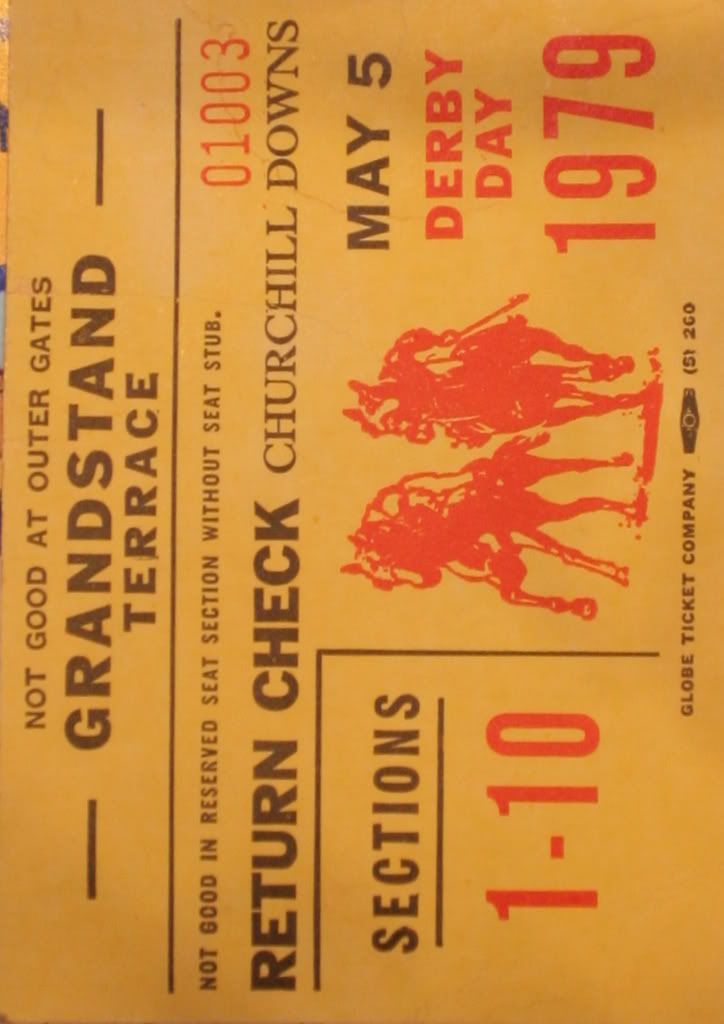 Wow that was so long ago I forgot. That was my first Derby. It was in the box.
I remember, the 1970's were the age of the Derby... 3 Triple Crown Winners
Secretariat 1973
Seattle Slew 1977
Affirmed 1978
Since 1978 there have been 9 contenders, winner's of both the Derby and the Preakness who lost at Belmont. Much of life is that way, you see for the Triple Crown there is no next year. It's one chance, one shot, that's all.
My box is full of one time only chances, some worked out, others didn't. But I am thankful for all of my second chances for in my life I've had many.
My box is also full of dreams, and life changing moments. There are nine hotel keys and I remember who each key represents.
As the box goes back on the shelf, I know it might be another year or maybe longer before it's opened again.
But I'm afraid too look back to often so I'm sure it will be awhile before I do. That is unless Street Sense wins the Preakness.
I might even try to find that photo of the two joints and1/2 empty bottle of Jack!