The Post and Courier is reporting: "
Three teenagers and two young adults face a litany of drug charges after leading Charleston County Sheriff's deputies on a high-speed chase Saturday
."
Deputies found a suitcase in the trunk of the 2004 PT Cruiser that contained all the ingredients needed to cook methamphetamine. They also found methamphetamine, cocaine, marijuana and a revolver, authorities said."
Charleston County Sheriff identified those charged as Miranda Artz of Goose Creek; Amanda Bazzle, 22, of Summerville; Jamie Campbell, 24, of Summerville; Joshua Grooms, 17, of Charleston; and Wendall Chinners, 21, of Summerville.
Here are the five unlucky passengers of the PT Cruiser mobile crack house.
I have to say that Miranda, first on the left, looks pretty sad. What is really sad is before she became a crackhead she was just a cute kid just hanging out looking for fun.
Before pot rotted her brain she posted "I am a blonde chic who likes to SHOP and listen to music and hang out with my homies... and... I want to be either a homicide detective or an FBI agent when I grow up..like CSI ..or maybe a veterinarian.... "
I'm sure her parents are proud of her now...... so much for her dreams. But what makes a cute kid like Miranda what to hang out with a skank like the one below?
Amanda Bazzle looks like she just walked out of an episode of "COPS"....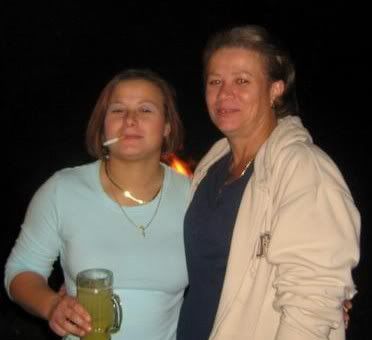 Yep that's Amanda and her proud momma, who thinks Amanda is soooo cute when she's stoned and drunk at the same time. And this trust me is a nice photo of the single mother.
Let's hope DSS pays a visit and picks up her son before it's too late. Photos of Amanda and Mason on Amanda's
myspace page
.
And last but not least there's this puke....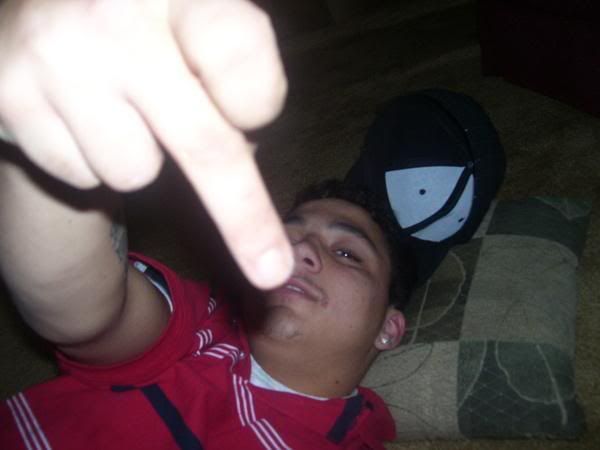 Who claims "my name is Joshie Wayne Grooms I'm Looking for a BAD BAD bitch to chill & smoke wit my boyz" and he adds this classic "YO dis BOY lil joshie....I f**k real well... F**K going da JaiL" Opps look where "dis Boy" is today!
So here is my rant. Why are parents so clueless? If they would just pay attention and listen to their kids, if they would just shut up and listen I mean really listen they would know what is going on in their kid's life.
You think they would have a look at their kid's mySpace page? Even so their parents will gloss it over with, "oh he's just trying to find himself", or "she'll grow out of it" and the best, "I don't really like her friends but who am I to choose who she hangs out with?"
OH MY GOD! WAKE UP PARENTS!
If you have a Miranda, I encourage you to visit
Phoenix House
they know how to heal and how to Save a life. Do it NOW!