Thursday March 6, 2008
Hilton Head Island, South Carolina
ABC News is reporting that Harbour Town Yacht Basin owners John Calvert, 47, and his wife Elizabeth, 45, have not been seen since Monday March 3, 2008 after a late afternoon business meeting.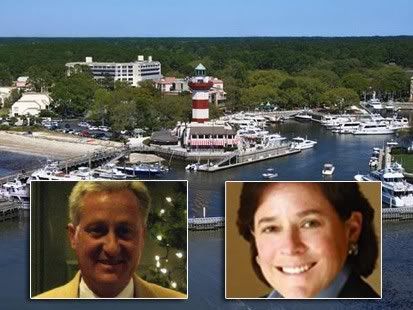 A search of their yacht "Yellow Jacket" and a home in Atlanta have turned up no evidence of foul play, but also no indication that those places had been visited since Monday.
Photo: Members of the Beaufort County Sheriff's Department use a K-9 to search the dock around the boat of the missing couple Thursday afternoon. Credit: Jonathan Dyer/The Island Packet

John Calvert failed to meet his employees for a morning meeting on Tuesday and his wife Elizabeth Calvert, a tax attorney in Savannah, also never arrived at work.
In Hilton Head the couple normally stays aboard their 45-foot motor yacht named Yellow Jacket. The boat is reportedly tied up and secure, in its normal slip at the Harbor Town marina. ABC news is reporting that it does not appear that the couple slept aboard the boat on Monday night and that they left behind their dog and a cat but that nothing seems to be missing.
What is missing is their silver 2006 Mercedes E320 with Georgia tags, but the vehicle's GPS system is not activated and calls to the Calvert's' phones go directly to voice mail.
The Beaufort Gazette is quoting Sheriff P.J. Tanner that the disappearance is "raising eyebrows" and that he would not rule out that the couple may have been victims of a crime.
UPDATE:
Friday March 7, 2008
The Beaufort Gazette is reporting:
The Mercedes belonging to John and Elizabeth Calvert was found in a parking lot in Palmetto Dunes early this morning, but the car contained no clues to their whereabouts, the Beaufort County Sheriff's Office said.
The car was found in a commercial parking lot in the Hilton Head Island resort. The Sheriff's Office would not say which lot it was because it is part of the ongoing investigation, Lt. Col. Neil Baxley said. Nothing was found in or around the car that provided new information on the case, the Sheriff's Office said. The car was found at 3 a.m. after a search of every parking lot on the island. The car was impounded and searched throroughly, the Sheriff's Office said.
A dive team was scheduled to search Harbour Town Yacht Basin this morning, but the effort was rescheduled for Saturday due to the weather, Sheriff P.J. Tanner said.
The Calverts were last seen Monday night and were reported missing when they didn't show up for business obligations Tuesday morning. John Calvert, 47, owns the company that manages the yacht basin and Harbour Town Resorts, which has 125 rental properties. Elizabeth Calvert, 45, is a Savannah business attorney at HunterMaclean, the state's largest law firm outside Atlanta. The couple live part of the time in Atlanta and part-time on a boat, Yellow Jacket, docked in Harbour Town.
Authorities say they're still not able to say a crime has occurred with the disappearance.
Additional Coverage:
Beaufort Gazette
Hilton Head Island Packet
Cedar's personal note:
I answered my cell phone on Thursday night, calling was a polite reporter with the Island Packet. The line of questioning was not surprising, he wanted to know if I could think of any odd or strange business dealings the Calvert's might have had. The thinking behind this at least by someone doesn't know John or Liz is understandable, but as far as I'm concerned it is also going in the wrong direction.
I'm quoted in the Friday addition of the Island Packet as follows:
Cedar Posts, who runs a charter yacht called that passes through Harbour Town a few times per year, said John Calvert was always there to offer a hand.
"He's like the world's nicest guy," Cedar Posts said. "He'd always stop somewhere to help somebody."
As I explained to the reporter, I only know John from a business relationship around the marina, but I regret my use of the word "like" besides my valley speak error, John is not "like" he "is" the world's nicest person.
I'm surprised that the Charleston Post and Courier has not picked up this story. I've known John for several years and he's one of the nicest people you'll ever meet, the kind of person who has never met a stranger. Like most boaters John's always ready to help anyone who asks.
If you have any information regarding the whereabouts of John and Liz Calvert please contact the Beaufort County Sheriff's office at 843) 842-4111 or call 911.
John Calvert is 47 and 5 feet 6 inches tall with blue eyes and grey hair. Liz Calvert 45 and is 5 feet 4 inches tall with brown eyes and brown hair possibly last driving their silver 2006 Mercedes E320 with Georgia tag GT821B.