The image is that of the "Meet the Press" studio, the lights are dimmed and a lone empty chair is illuminated from overhead, the voice is that of Tom Brokow:
"Our issues this Sunday." .... Tim Russert started every edition of Meet the Press with those four words .... and those were the words that he was preparing to record when he collapsed and died on Friday at these NBC studios in Washington. Now his moderator's chair is empty, his voice has been stilled.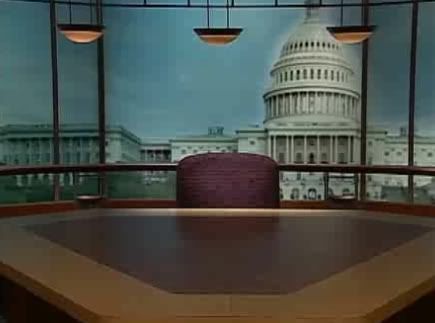 As Tom Brokow spoke those words the television a camera closed in on the chair that Tim Russert conversed with our nation's politicians and captains of industry, a chair that is now empty.
Death for some strikes suddenly, swiftly and without warning for others it lingers, waiting purposeful and looming. And in it's aftermath we pause, reflect and speak volumes of words about the man, and the family, about those who have gone ahead and those who are left behind.
But when the man is someone you don't know, but you have spent hours listening to in a one-sided conservation you have a unique situation. Do you morn the loss like that of a close friend, or simply make a mental note of his passing?
I suggest that the passing of Tim Russert is a time for neither, for it better to reflect on the news media, how it has changed our nation and how Tim Russert was a major force of that change.
Tim Russert was at the top of his craft when he passed away this past Friday. I've enjoyed Tim from the distance of about 15 feet for a number of years, I can't say we were close but had I known him, I would like to think we would be good friends. He seemed to be the type of guy who would hand you a beer, ask you a question and nod politely even when you were a bit long winded.
Russert came across as warm and caring in a most disarming way, yet he was bulldog when he was on to something!
I'm not one to follow the lives of celebrities, though I think Dale Earnhart was one of the greatest, that there will never be another Michael Jordan or Tiger Woods. I've shaken hands with Barrack Obama and Gerald Ford and Bill Clinton, and countless others, but I don't have an autograph collection to prove it. I don't have a wall full of photos with me and some hollywood star or civic leaders, though I have a book signed by Jimmy Buffet, and a photo of my son with Dennis Connor.
I'm not impressed with actors, or the latest group of American Idol contestants. But I'd like to go trout fishing with Tom Brokaw, ride a bike for a few miles with Lance Armstrong and have Muhammad Ali, throw a few jabs my way.
And if I had known how swiftly death would come to call I would have found a way to "meet the press" and the man who was Tim Russert.
From The Associated Press:
"Tim Russert, host of NBC's "Meet the Press" and its Washington bureau chief collapsed and died at work Friday after suffering an apparent heart attack.

Russert, of Buffalo, N.Y., took the helm of the Sunday news show in December 1991 and turned it into the most widely watched program of its type in the nation. His signature trait there was an unrelenting style of questioning, sparing none of the politicians, business giants and even sports figures who appeared on his show.

Washingtonian magazine once dubbed Russert the best journalist in town, and described "Meet the Press" as "the most interesting and important hour on television"
Tim is one of a small hand full of pundits that I really enjoyed listening to and actually believed.
He was "the press" in the most profound way, as he represented everything that the media has lost in a world now filled with annoying Nancy Grace and Bill O'Reilly clones.
All I think about is Russert's famous pronouncement it all comes down to three things "Florida! Florida! Florida!"
Tim Russert will be greatly missed come this November.