The video below runs nearly continuously on our boats while guests are aboard. It embraces everything about the water, the islands and boating that our crew and guests love. If you had the right connections, you scored an "invitation" to charity concert which by most accounts still stands as the ultimate parrot head adventure. And just might explain why the CP blog suddenly goes silent from time to time.
The concert, took place on March 24 2007 at 3pm, and was hosted by international reggae icon and Anguilla's favorite son Bankie Banx at his acclaimed beach hotspot Dune Preserve. The late-afternoon show began with an opening performance by Banx and his bandmates, followed by Buffett and his renowned Coral Reefer Band. Tickets for the concert where only $100, and all the proceeds benefited Project Stingray, an acclaimed music and education program on Anguilla, the Anguilla Tennis Academy and the Anguilla Community Foundation.
A few photos from the event:
The patron saint of Anguilla himself.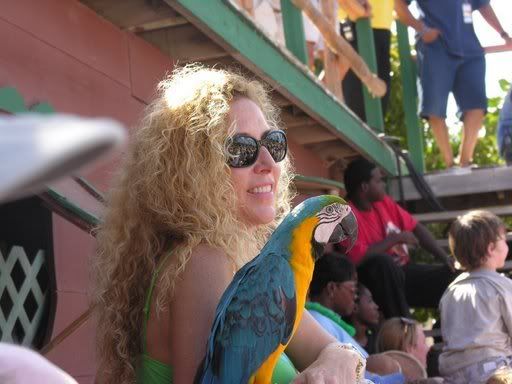 Something you won't see at a concert in the Carolina's a real parrot.
It won't be a Buffett concert without some wild hats
or not much at all.
And then there was Jim P. sporting a Southern Comfort Abaco Islands 2007-2008 t-shirt.
We now return to our regular programing.