File this one under only in South Carolina.
COLUMBIA, S.C. (AP) -- An NAACP leader on Wednesday blasted a South Carolina restaurant owner for a sign that mentioned Democratic presidential candidate Barack Obama and a dark and white meat chicken dinner special.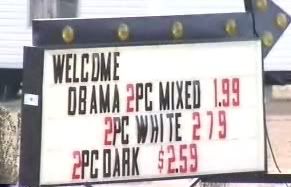 "Either it's the most insidious form of racism imaginable or the most gross error," said the Rev. Brendolyn Jenkins, president of the National Association for the Advancement of Colored People in Aiken, where the restaurant is located.
The restaurant's outside sign originally read "Welcome Bill and Obama," with "Obama" placed on the second line" The next two lines had specials for white and dark chicken, according to Augusta, Ga., television station WAGT.
For his part, the white owner of Bullseye Big Chicken in Aiken defended the sign and said he didn't realize it may be racially charged until customers, including some blacks, started asking for the "Obama special."
Pierson said there wasn't enough space for Obama on the first line and he removed "Welcome Bill" after the former president's visit to the area.
A spokesman for Obama's campaign in South Carolina did not coment but did ask if they offered carry-out service.