Chris Matthews of MSNBC may have been the first news anchor to compare Michelle Obama to Jackie Kennedy. But since then the comparison has been made again and again, frankly nothing could be further from reality.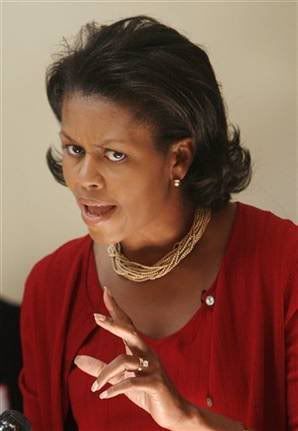 The White House is a universally recognized symbol of America. It is from the lawn of the White House that the world watches, and often hopes in times of war and natural disaster. Behind the gates of 1600 Pennsylvania Avenue decisions that affect the world are made but none are made by the President alone.
While the president may surround himself with skilled and trusted advisors, he is just as often corralled and courted by psychopaths and leg huppers. Often his closest confidant is his wife, someone who knows more than any political pundit or chief of staff, just what sets him off and what brings him to his knees.
The role of first lady has always been that of elegance and grace, protocol and etiquette, and above all else compassion.
The images of Eleanor Roosevelt tending to wounded soldiers in London, Lady Bird Johnson along side migrant workers in California, Nancy Regan at the holocaust memorial in Israel, and Jackie Kennedy along side Nikita Khruschev in Vienna, have done much over the years to build a vision of our nation as a place of understanding, acceptance and something that has been so elusive during the two most recent administrations, compassion.
While the president may often appear surrounded by his advisers and at times of national crisis alone from the oval office it is his appearance on the south lawn of the White House, alongside the first lady, that the world can see our country's compassionate side.
America's image overseas has not been favorable in nearly two decades, yes it's hard to accept that it has been that long since Nancy Regan was the First Lady and Ronald Regan helped the world tear down the Berlin Wall.
There is such a stunning contrast to all those who served our county as First Lady in the past, and the angry Michelle Obama who "for the first time is proud of her country" and who mutters "whitey" just out of earshot.
We are now in period of worldwide financial crisis, a time when 39 civil and cross boarder wars, are killing thousands of unarmed civilians around the world each month and the needs of the poor and of small democratic nations around the world could not be greater.
The United States of America is threatened from so many different directions the last thing we need is an insider who is filled with anger, rage and distrust for the majority of country's populace and 1/3 of the worlds who just happen to be not of color.
Michelle Obama we knew Jackie Kennedy and your no Jackie Kennedy, in fact your views are so far apart in the objectives you choose for your country that we do not think the comparison is well-taken.